Welcome to the Official Web Site for Trades Jazz Club, Guam.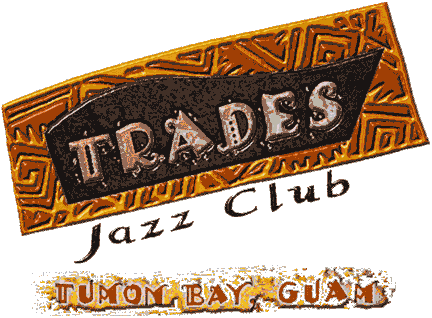 Everything's better in Life with Jazz Music.
Trades Jazz Club is a pioneer in Live Jazz Music on Guam and continues to be the leading Live Jazz Club on Guam. Trades is the home of the Island Jazz Scene, but presents occasional international guest performer.
All musicians are well known on and off island for their Great Spirit and love in presenting their music. Some have already recorded their own CD.
The interior is based on handicrafts, bamboo and rattan.
Because of its one of the kind atmosphere, contemporary as well as traditional Jazz Music, Trades is a Jazz Club for all ages.
To see enlarged picture double-click on the photograph.
Soon we will have an weekly update of the pictures. You might find a picture of yourself here after you have visited Trades Jazz Club. Please, feel free to download the picture to your computer.
Trades is located on the second floor of the Bayview Plaza Building across Planet Hollywood. Free Parking is available behind the Bayview Plaza Building, the Parking Entrance is between Bayview Plaza and Sandcastle, to view map please click here.


Please, bring a copy of the
DISCOUNT COUPON
and you will receive
on your first drink.
Thank you very much for visiting our page. We hope you enjoyed your visit. For more information, don`t hesitate to press the E-MAIL SIGN below.